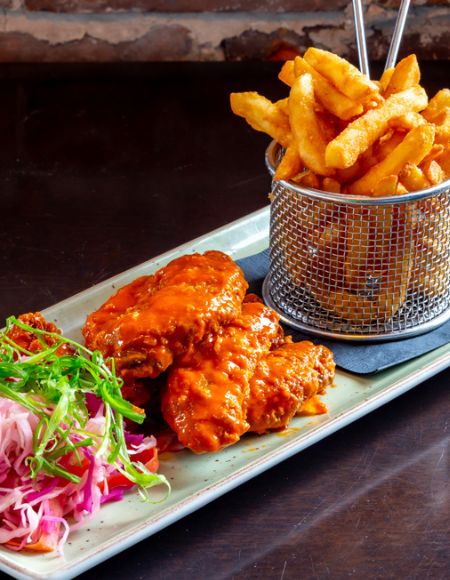 About us
Tap & Tonic - Marmora
Welcome to Tap & Tonic, where exceptional dining meets a lively and inviting atmosphere. Located in the heart of campbellford, our establishment is dedicated to providing a memorable experience for all our guests.
We also take pride in hosting a variety of events and live entertainment throughout the year. From wine tastings and themed dinners to live music performances, there's always something exciting happening at Tap & Tonic. Be sure to check our events calendar to stay up to date with the latest happenings.
Step inside Tap & Tonic and you'll discover a charming and welcoming ambiance. Our thoughtfully designed space features a cozy dining area, an elegant bar, and a relaxing patio for al fresco dining. Whether you're celebrating a special occasion or simply enjoying a night out, our inviting atmosphere sets the stage for unforgettable memories.
book table
book a table for you
One of the best eats in Marmora. The wings are absolutely amazing. The service was absolutely great as well. A great casual relaxed environment to enjoy a meal with friends and family.



This is my first time dining at this restaurant, and I gotta admit I have not a single negative thing to say. We decided to do their wing and rib special. The wings were a generous size and the ribs were fall off the bone good.
My husband and I were recently in Marmora for an evening and ate at Tap & Tonic. We didn't expect much from a restaurant in small town Ontario but the food was great! Fresh and well dressed salads, homemade burger!